ROAD TO
THE PACE
COMING MAY 2023
The Biggest Party in Harness Racing – the Meadowlands Pace, our signature event! First Race Post time 6:20pm. Admission and parking are free
 T-Shirt Giveaway – Begins 5 p.m.; first 5,000 guests.
DJ in the Backyard
Carnival Rides & Games – including mechanical shark, toxic moonwalk, 3-in-1 sports game, toxic obstacle course, axe throwing, and 2 carnival games
$500 Win Bets – 5 winners will have a chance to place a $500 win bet on a designated race.  Entry in the live racing program
The Annual Meadowlands Burger Battle!

Think you have the best burger in town? Impress the judges on Saturday, July 15 for a chance to win $1,500! $3,000 in total is up for grabs!
Event is 5-11 pm in the Backyard.  Fans are welcome and encouraged to come out and purchase and taste some of the best burgers in the area.  There is no admission fee and vending begins at 5pm.
Fans can enter to win a spot @ the Judging Table – 1 entry per person.  2 fans will be selected to be judges.Burger Battle Details: $1500 Grand Prize, $1,000 2nd place and $500 3rd place; $500 side prize for best tasting burger patty
Open to area food trucks & restaurants –  To register: email Raryan@playmeadowlands.com
$100 entry fee must be paid prior to July 8
Entrants must be ready to sell by 4pm and can  sell any food items in addition to burgers.
Entrants must prepare 6 burgers for judging @ 7 pm – burger can be any combination of meat + toppings.
Judging based upon: 60% taste, 40% presentation
STAKES (purses estimated)
$700,000 Meadowlands Pace
$450,000 WR Haughton Open Pace
$400,000 Hambletonian Maturity
$285,000 Stanley Dancer
$250,000 Del Miller Memorial
$200,000 Mistletoe Shalee
$175,000 Dorothy Haughton Open Mare Pace
$40,000 Miss Versatility Mare Trot Leg 4
Guarantee your spot to dine and watch an epic night of stakes races on Saturday, July 15, 2023.
THE LOUNGE:
Center of the action with front row seat to Victory's giant screens.

2- and 4- top tables and VIP couches available.

​

Reservation can be made via email – victoryreservations@arkrestaurants.com
THE CAFE:
Table for 4 near the Winner's Circle
$100 per table – price is a credit towards cafe food and drink purchase
Purchase your table here
Pink Restaurant:
Tiered dining room with great views of the live racetrack action
Buffet features salads, sides, main courses, carving station and delicious desserts
 per person plus tax and gratuity
Since 1977, the Meadowlands Pace has produced some of the most thrilling sprints to the finish line in racing.
Past Winners are list below. For more Meadowlands Pace stats and histories click here
1979 Sonsam
  1980 Niatross
  1981 Conquered
  1982 Hilarion
1983 Ralph Hanover
1984 On The Road Again
1986 Laughs
1987 Frugal Gourmet
1988 Matt's Scooter
1989 Dexter Nukes
1990 Beach Towel
1991 Precious Bunny
1992 Carlsbad Cam
1993 Presidential Ball
1994 Cam's Card Shark
1995 David's Pass
1996 Hot Lead
1997 Dream Away
1998 Day In A Life
1999 The Panderosa
2000 Gallo Blue Chip
2001 Real Desire
2002 Mach Three
2003 Allamerican Theory
  2004 Holborn Hanover
2005 Rocknroll Hanover
2006 Artistic Fella
2007 Southwind Lynx
2008 Art Official
2009 Well Said
2010 One More Laugh
2011 Roll With Joe
2012 A Rocknroll Dance
2013 Captaintreacherous
2014 He's Watching
2015 Wiggle It Jiggleit
2016 Control The Moment
2017 Huntsville
2018 Control The Moment
2019 Best In Show
2020 Tall Dark Stranger
  2021 Lawless Shadow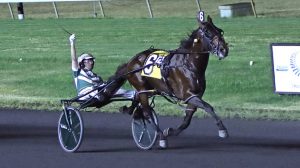 2022 Beach Glass