Racing 101
If you're new to the sport of harness racing, there's a good chance you're new to the game of pari-mutuel wagering, too. Don't let all the numbers and statistics in the racing program and on the tote board intimidate you—they're your keys to a better shot at winning at the races! We'll walk you through some key things to look for to make your first time at the races a lot less confusing and a lot more fun!
Table of Contents

Click a title to jump to that section. Use your browsers back button to return back to the top of the page.
What is Harness Racing

In horse racing, horses are grouped in races according to gait, age, sex, and comparable ability, with better horses racing against each other for larger purses. While top three-year-old Thoroughbreds race in the Kentucky Derby and other marquee races, Standardbreds (harness horses) have the Hambletonian, the Meadowlands Pace, and other national featured events just the same. Thoroughbreds are ridden by jockeys; Standardbreds are driven by drivers.
Standardbreds do not run—at least, they're not supposed to. Races are contested on one of two gaits (pattern of leg movement), and a horse must stay on gait through the race. If it breaks stride into a gallop (what you think of when you picture a horse running normally), it must lose ground and regain its proper gait before advancing again. The two gaits are as follows:
Pacing – both left legs move together, then both right legs

Roughly 4/5 of harness races are contested by pacers
While pacing is not a natural gait, it is the faster of the two gaits
Top pacers can cover one mile in times faster than 1:50
To help pacers stay on gait at race speeds, almost all pacers wear hopples—looped straps that guide the legs on either side to move together.

Trotting – the legs diagonal from each other move together

Trotters make up a smaller portion of the Standardbred population in North America, as training them to maintain a diagonal gait at top speed requires more skill and more patience.
Racing Classes

Horses race against other horses of similar ability, and they move up and down in class based on recent performance.
Much like a baseball player works his way through Rookie League, Class A, Class AA, and Class AAA on his way up to the major leagues, horses begin their careers racing against other horses which have never won a race, and advance to the next level after proving his/her ability on the racetrack.
Each level sees the competition get tougher, but the reward is greater in the form of higher purses for each step up.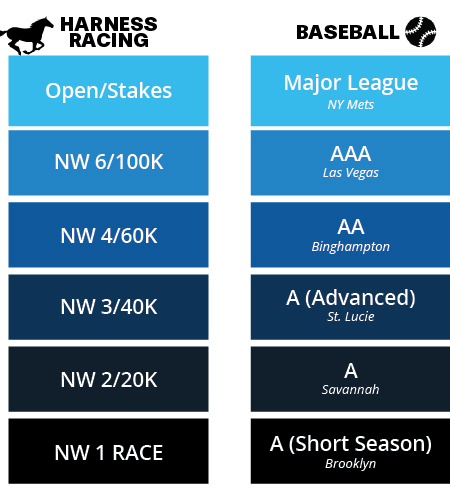 NW stands for "non-winners"
While "non-winners of X races" classes only allow for horses to move up in class, horses will often make lateral moves to other types of races to enable them to eventually drop in class for a better chance to win.
Comparing Classes:

It is easiest to track class movement in horses which have raced in the same type of race in recent efforts.
For horses that have raced at different tracks or in different types of races recently, directly comparing the purses of past races with each other and to today's race will often serve well to make the class comparison.

REMEMBER! Don't just take into account the highest class each horse has raced in, but make note of the highest class in which each horse has raced well when making your selections.
Types of Races

"Non-winners of X races or $Y lifetime" – fairly straightforward. If a horse has won the prescribed number of races and the amount of money, it has to move up in class.
"Non-winners of $X in last Y starts" – deals with earnings like the first type, but on a more short-term basis. Older horses and horses that have won more races than the top lifetime class allows will often race in these classes, and can move up and down.
Claiming races – Horses entered into claiming races can be claimed (purchased) out of the race. This insures races will be competitive by deterring owners and trainers from putting horses in easier races and risking losing the horse for less money than it is worth.
Classified races – Horses are moved up and down in class by the race secretary, based on recent performance.
Stakes races – The best of the best at each gait, age, and sex.
Reading a Live Racing Program

Perhaps the most intimidating thing for handicapping newbies is learning to read the live racing program. Programs are a bettors handbook for that day's racing card (available at the track and free online here) and contains everything you need to know about each horse in a particular race and their past performances. There is a lot of information available and can be a lot to dissect for a new handicapper. But don't worry, you'll get the hang of it the more you practice.
PRO TIP: Because of the abundance of important information, live racing programs are often printed in very tiny type. For those who need eyeglass readers, be sure to have them on hand!
---
Understanding Horse Information
The horse we're looking at is racing from post position #1 (the extreme inside), and is wearing saddle pad #1, which is RED.
He is eligible to be claimed (purchased) for $12,500, which corresponds with the conditions of the race that we saw before.
His morning line is 4-1. The morning line is the track oddsmaker's prediction of the final odds, (remember, the actual odds change as you bet!) and can often be used to quickly determine what horses will likely be bet heavier than others.

JUXASPORT is the name of the horse, and he's driven by Eric Goodell.  In 227 races from the year to date effective the printing of the above example, Eric won 30 races, finished second 41 times, and third 32 times.  His Universal Driver Rating, .279, is calculated with the following formula, with w representing wins, p 2nd place finishes, and s 3rd place finishes: (9w + 5p + 3s)/9
JUXASPORT has made $19,125 in his five most recent starts.
JUXASPORT is a five-year-old bay gelding from parents Sportsmaster (sire/father) and Juxtaposition (dam/mother).  Cole Muffler is the sire of the dam, or the maternal grandfather.
JUXASPORT is owned by Virgil Addison, and trained by Alfredo Collazo (1 for 9 YTD, with a .210 UTR).

JUXASPORT has made $83,299 in 61 career races, winning 10 of them, and finishing "in the money" (top three) in 29 of them. He's making his first start of 2013, but in 2012, he won 5 of 27 races, finished in the money in 11 of them, and earned $36,902.
His lifetime mark—his fastest win—came as a four-year-old at Chester, a 5/8-mile track, winning in 1:52-4/5 on a fast track. Remember, nearly all races are a mile!
---
Understanding Past Performances
Here's a guide to help understand the past performance section.
---
Reading Times in a Live Racing Program
Better horses in higher classes tend to go faster miles, but that's not always the case.
The program shows the split (¼ mile, ½ mile, ¾ mile) and final (full mile) times for the leader in each race, as well as each horse's individual final time and individual last quarter mile.
Give extra consideration to horses that covered extra ground through the race, and sustained progress or held even late.
ADVANCED: Often a telltale sign of a horse's ability can be found in their final three-quarters time. Take the leader's ¼-mile time (reported down to the fifth of a second), add one fifth of a second for each length the horse was behind at the ¼-mile chart call, and subtract that total number from the horse's individual final time.
---
The Human Element
In addition to horse-related information, the live racing program will also provide information regarding who the driver or trainer is.
Good trainers and good drivers consistently get good results.
Drivers are nominated to a horse at time of entry, and if a driver is nominated on multiple horses, they choose which horse to drive.
A horse that is partnered with a better driver from its last start can often experience an improved performance, as the talent of a driver in negotiating a favorable trip and sustaining speed is instrumental in a good performance. Watch for horses that were driven by drivers not in the top 5 in their last start, but driven by top 5 drivers in today's race.
In claiming races, when horses are claimed (purchased), they race for a different trainer after being claimed. If a horse is making its first or second start for a new trainer with strong statistics, give this horse special consideration, too.
Bet Types

Basic Bets
$2 MINIMUM
Win

: Your horse finishes 1

st

Place

: Your horse finishes 1

st

or 2

nd

Show

: Your horse finishes 1

st

, 2

nd

, or 3

rd
PRO TIP: Try a combination! Betting across the board will place a Win bet, a Place bet, and a Show bet at the same time, increasing your winning odds.
Exotic Bets
$1 MINIMUM
Exacta

: Your (2) horses finish 1

st

and 2

nd

in that order

Trifecta

: Your (3) horses finish 1

st

, 2

nd

& 3

rd

in that order
PRO TIP: Try boxing your bet to increase your winning odds. For example, box a Trifecta bet and win if your 3 horses finish in any order, instead of a specific order.
Other Bets To Consider
Quinella: select the first two finishers with no regard to order.
Superfecta: select the first four finishers in order. (selected races)
Daily Double – select two consecutive winners. (selected races)
PICK 3: select three consecutive winners. (selected races)
PICK 4: select four consecutive winners. (selected races)
Boxes and Wheels
In exotic wagers (exacta, trifecta, superfecta), you can cover more combinations by boxing and wheeling horses. Boxing horses will give you every possible combination with the horses involved. This term is used when multiple horses are selected in wagers where the bettor is not sure of the order in which the horses will finish.  As an example, you wish to bet an exacta, but think that three or perhaps four horses have a real chance of finishing first or second.  You can box these selections, which allows you to play the horses you like and not worry about the order in which they finish.
Wheeling and part-wheeling horses enables you to choose what horses to back for each position in the wager. This type of wager can be used when you feel that one of your selections will finish in a certain position, either first, second or third.  The horse you select to finish in a certain position is your "key" horse.  The other horses you have selected may then finish in any order and you are a winner.  As an example, let's say that you wish to bet a trifecta and you feel strongly that the #2 will win the race.  In this situation, you can "key" the #2 on top (to win) with your other selections.  If #2 wins and any of your other selections finish second and third, you would win.
Using more horses on your ticket will increase your chances of winning, but the cost of your ticket increases based on the number of combinations you're covering. However a lot of tracks offer trifecta and superfecta combinations for a fraction of a dollar (50¢, 20¢, or even sometimes 10¢), allowing you to spread your tickets out without exhausting your entire bankroll for the day's races.
Placing Your Wager

Where to Bet
Visit a beginner's mutuel window, bet on a self service teller (SST), or bet on your mobile device.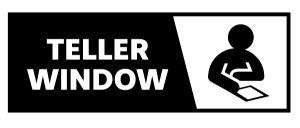 There is no need to be intimidated! Our tellers are happy to assist first timers in placing their bets. For a smooth betting process, be ready to give the teller the following:
Name of track

Race number

Wager Amount 

Wager Type

Horse number(s)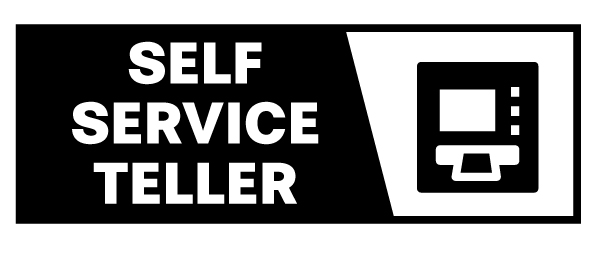 Our self-service tellers are placed throughout the building to make sure you can get your bets in fast and easy. Try one out! Follow the below steps at one of these machines:
Insert cash, voucher, or winning ticket. 

Insert Players Rewards card (if available)

Select track

Select race number

Select wager amount

Select type of bet

Select horse number(s)

Double check your bet. If incorrect, choose Start Over. If correct, select Print Ticket to purchase.

Continue with another bet or select Finish. Remember to collect your ticket before leaving the SST!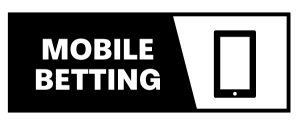 Comfortable with betting and want to place your wagers from the comfort of your seat? You can simply place a bet from your mobile device. 
Pick up a pin slip at a teller window or the Players Rewards desk

Present the slip at a teller window to activate your Account ID & Pin #. You can also fund your account at this time.

Follow QR code at the right or go to BetsBigM.com

Enter Account ID & Pin #
Choose your races and bets
Remember: When you're done, present the slip back to any teller to cash out.
How Does Betting Work?

You (collectively, all across North America) wager money into the various pools offered for a given race.
The PARI-MUTUEL system, used at all racetracks in North America, allows bettors to wager among themselves. It is similar to a stock transaction. When you buy a $2.00 ticket on a horse you are, in effect, buying one share in the horse's performance in the race. Bettors are not betting against the house (like in blackjack) or a bookmaker. The track retains a flat percentage from each wagering pool, known as the takeout.
This is typically between 15 and 25 percent, depending on the track and the type of wagering pool. (Most state lotteries take close to 50 percent!)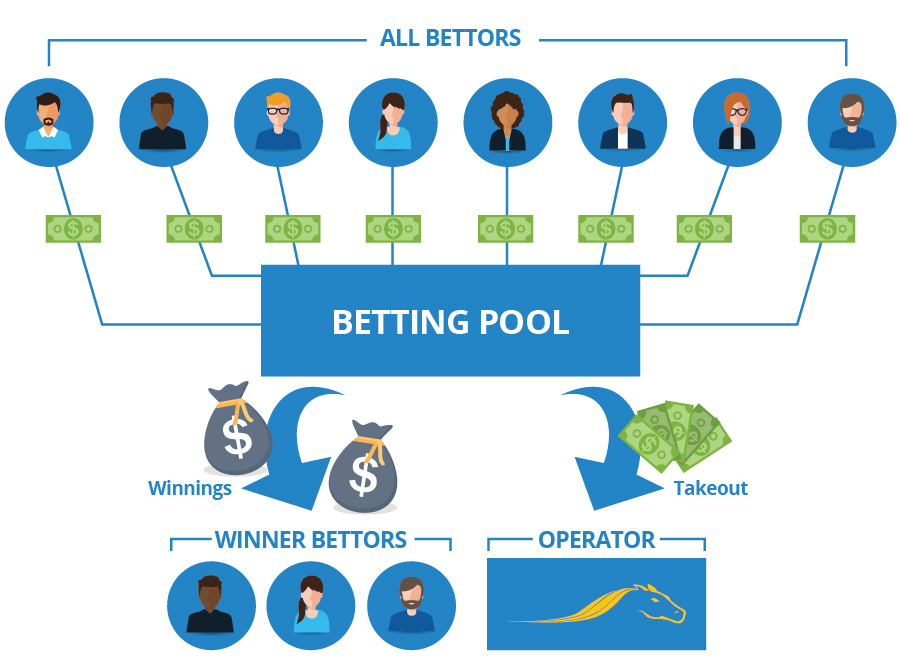 How Much Do I Win?

After winning bets are set aside and returned to their investors, and takeout is removed from each wagering pool, the remainder of the pool is paid out on all winning bets. Each type of wager in a race has its own wagering pool.
This sounds more complicated than it actually is.
Let's break it down into a demonstration with simple math:
For the purposes of this example, we'll assume we're wagering on a horse race with just five runners. The house takes in the following wagers on the race (creating the total betting pool seen in the graphic above.)
Money Wagered on Each Horse 
These wagers, shown in both dollars and percentage of pool, total $1,200. Please note that we've used small numbers here to make this example easier to follow. In reality, there'd be a LOT more money in the betting pool! Let's say we decide to back horse number one for $10, and horse number one wins this race.
The betting pool now turns into this: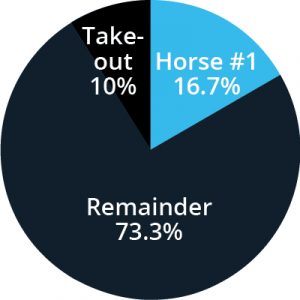 First, the operator of the pari-mutuel betting takes its cut of 10% (for purpose of this example). The winning wagers (16.7%) are set aside to be returned to their investors. This leaves 73.3% remaining in the betting pool to be paid out to the winning bettors. We then divide this remainder by the amount of winning bets, so 73.3 ÷ 16.7 = 4.3892. This is rounded to the dime (to the nickel in some jurisdictions), giving us odds of 4.4 to 1. Since we wagerd $10 on horse number one, we first multiply the odds by our wager ($10 x 4.4) = $44; plus we get back our initial investment of $10, giving us a winning total of $54!
Let's express this using dollar amounts instead of odds for just a moment. So $1,200 was bet in total on all the horses. The operator takes its cut of 10% or $120. This leaves $1,080 in the betting pool. $1,080 betting pool ÷ $200 total wagering on that horse = $5.40. We'll win $5.40 per $1 wagered, or $54.
How Odds are Displayed
The odds are a real-time reflection of money bet in the win pool. Not the place pool, not the trifecta pool, just the win pool. As more money is wagered, the odds change to reflect it.  Horses with a higher percentage of money bet on them have shorter (lower) odds, while horses not so popular with the punters have longer (higher) odds.
So, we learned through calculating the win dividend on #1 that it paid odds of 4.4 to 1. Easy enough—but because odds are limited to a two-digit display on screens, they are most often shown as an approximate fraction. Instead of displaying the fraction 4.4/1, the odds will be displayed as an approximate 9/2, or 4-and-a-half/1.

If the first number of the fraction is larger than the second number, the net profit of your horse racing bets will be larger than the amount wagered.
If the second number is larger, you're betting on the "odds-on favorite," and your return will be smaller than the amount risked. This occurs when you bet on heavy public favorites – you stand to win less because everyone is betting on the same horse. If the odds-on favorite wins, the betting pool will be split among many winning tickets, netting everyone a smaller portion of the pool.
PRO TIP: The tote board (in the infield) and TV monitors throughout the racetrack show real-time amounts and probable dividends in key wagering pools (Win, Place, Show, Exacta, Double), along with the current odds.
More About Odds
The total amount paid out will always be the same, but the the amount per $1 wagered changes based on the total amount wagered on each selection. The more that was wagered, the smaller the payout per $1. This can be compared to fixed odds betting, where the odds for the favorite (and therefore the potential payout) are the lowest, and the odds for the outsiders are the highest. Although the odds aren't fixed here, there will typically be more money coming in for the favorite than there will be for the outsiders.
Remember, odds change constantly while you (collectively) bet money into the win pool. When the betting stops—and the race begins—the odds are locked in. Each pool is calculated separately, but other pools tend to closely reflect the trends of the win pool in terms of which horses are favorites and which horses are longshots. Win, place, and show bets are less risky, as they only involve one horse. Show bets are least risky of all. However, the potential reward increases with increased risk, and hitting that superfecta can make for quite a payday—often on a mere 10¢ investment!
The big difference, as we've mentioned, is that we don't know for sure what our potential payouts will be when we actually place our wagers. As we mentioned earlier, pari-mutuel betting operators show the PROBABLE odds prior to the relevant event starting. Although these are described as probable, there's no guarantee that the eventual payout will be anywhere close. It all depends on how much money has been taken in on the different selections at the time we place our wager.
Odds do not equal likelihood of that horse winning.
Some people may be tempted to interpret horse racing betting odds as an expression of a horse's likelihood to win a race, but that is not entirely accurate. Although there is usually some correlation between a horse's betting odds and its skill relative to the other runners, the odds are more accurately interpreted as an expression of public sentiment.
Parimutuel horse racing betting odds fluctuate based on public sentiment. The more money that comes in on a horse, the lower that horse's odds fall. Similarly, horses with few backers pay more because the total wagering pool will be split among fewer winning tickets.
Public sentiment is often a close approximation of each horse's relative strength, but do not be fooled into reading horse racing odds as any one runner's likelihood of winning. The key to successful horse racing betting is learning how to spot the gaps between public sentiment and reality.
We WANT You to Win!

When we say "have fun and win money", we mean it!  We want you to make educated wagers (hence this lesson in our sport and our game), and we want you to cash on those wagers, because winning is FUN!
Remember, you're betting against other handicappers, not the track.  So we really do want you to have a profitable night at the races!
If you have further questions about wagering or need a little extra help getting started, one of our tellers would be happy to assist you.
Don't forget, you must be 18+ to wager on horse racing and 21+ to wager on sports. Gambling problem? Please call 1-800-Gambler.
Other Tools
Glossary
Overwhelmed by some of the terminology using in horse racing? The Daily Racing Form has a handy glossary of horse racing terms that will help you understand some of the lingo.
World Harness Racing Podcast
Check out harness racing podcasts for interesting discussions of harness racing history, interviews with harness racing icons, and more.
Horse Ownership
Owning a Standardbred racehorse is a risk-reward proposition perhaps unlike any other. The thrill of rooting for your horse, especially when it wins, is unequaled. Many people involved in racing meet others in the sport and make friends for life.  Learn more about the process and start your racehorse ownership journey today!