Food, Fun & Racing at the Meadowlands Racetrack
Tuesday, June 28, 2022
---
Meadowlands Racing & Entertainment's Championship Meet runs through Hambletonian Day, Saturday, August 6th.   Live racing takes place every Friday and Saturday night plus Thursday, June 30, July 7 and August 4 with a 6:20pm post time. Post time on Hambletonian Day, August 6 is 12 noon.
Every live race night fans can enter Horseplay. Pick up a free horse at the promotions table and throw the horse into the car for a chance to win $100 and an entry into the Friday, August 5th drawing for a brand new 2022 Toyota Corolla.
Saturday, July 2nd is Fan Appreciation & Fireworks Night. Fans can enjoy $1 hot dogs, popcorn, soda and $2 Bud and Bud Lights.  Plus following the races fans are encouraged to stay for the free fireworks show.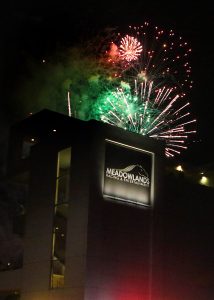 Then on Saturday, July 9th the annual BBQ Extravaganza returns to the track on Meadowlands Pace eliminations night.  $2,500 is up for grabs in the Battle with $500 top prizes for the best brisket, chicken, pulled pork and ribs. Attending food trucks include Magic Mike's Smoked Meats, Latin Bites, El Lechon De Negron, Oak Burn BBQ, Gentle Giant Brewing, DAW Concessions, My Delicious BBQ, Smokin' Joe's, Clyde's Homemade Italian Ice and Ice Cream, Michael's Backyard BBQ, Smoke Shed BBQ, The Empanada Truck, Carnival Concessions, Antojitos de mi Tierra and Cat Like Reflexes.
Saturday, July 16th it's the Meadowlands signature night-time event – The Meadowlands Pace! On the track, $2.5 million in stakes is up for grabs including the top 3 year old pacers competing for the $700,000 Meadowlands Pace title. Fans can enjoy food from local food trucks, ride the mechanical shark, win a prize at the carnival games and grab a "settin' the pace since '77" t-shirt (while supplies last).  Those that are 30 and under can enter the free handicapping contest for a chance to win their share of $5,000.  Details can be found at https://playmeadowlands.com/pace/
Saturday, July 23 is the $30,000 Jackpot Sweepstakes. Beginning at 6:45 pm there will be a name called every 15 minutes to win various cash prizes.  If the cash prize goes unclaimed (winners are given 15 minutes to claim prize), it is rolled into the next drawing. The drawings are held every 15 minutes – 6:45 – 11:30pm. Registration to win your share is free and can be found online at $30,000 Progressive Sweepstakes Entry Form | Cognito Forms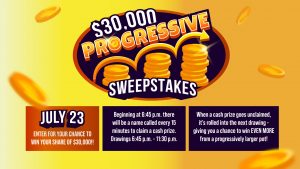 The always popular Seafood Festival is scheduled for Saturday, July 30th.  There will be a raw bar in the Backyard and a variety of food trucks serving up some of the best seafood in the Garden State including fried clams, fish tacos, crab fries, lobster rolls and much more! Participating food trucks include Fresh Catch Streats, DAW Concessions, The Little Sicilian, Cousins Maine Lobster, Latin bites, Magic Mike's Smoke Meats, My Delicious BBQ, Angry Archie's, The Mozzarella God, The Empanada Truck, Cat Like Reflexes and Clyde's Homemade Italian Ice and Ice Cream.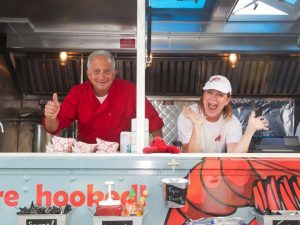 The race meet wraps up on Saturday, August 6th with the greatest day in harness racing – $1 million Hambletonian Day.   Doors open at 10 am with first race at 12 noon.  Admission is $5 and includes a commemorative Hambo baseball cap for adults and children.  Fans can enjoy carnival rides and games, food trucks, pony rides, live music and much more. Admission and table seating can be purchased at https://playmeadowlands.com/hambletonian-news/
For a complete list of nightly events, promotions and updated racing calendar please visit PlayMeadowlands.com.  Buffet dining reservations can be made by calling 201-The-BigM (201-843-2446).
Reminder, guests must be 18+ to wager; 21+ to gamble on sports.  Gambling problem? Call 1-800-Gambler.