MacGrath wins elusive Meadowlands Pace with Beach Glass
Tuesday, July 19, 2022
---
The final chapter of the amazing Somebeachsomewhere saga reached its conclusion Saturday night (July 16) when his son Beach Glass won the $600,000 Meadowlands Pace.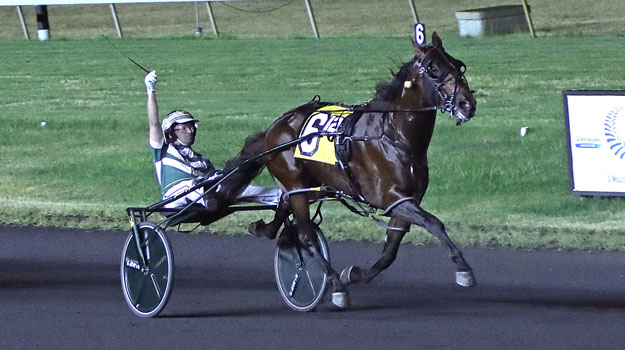 It's a long journey from Truro, Nova Scotia, to any of the major Standardbred racing centers.
Somebeachsomewhere took trainer Brent MacGrath and the partners in the Schooner Stable from the Canadian Maritimes on a magical journey. When it concluded, Somebeachsomewhere had won 20 of 21 career starts. The only prize to elude the Hall of Fame racehorse and stallion was the 2008 Meadowlands Pace, which he missed by only a neck that night at 1-10 to Art Official.
Here was MacGrath and the reconstituted Schooner II Stable back for another try after Beach Glass cruised to a dominant win in the previous week's elimination with Yannick Gingras at the lines.
"I said to Yannick when he pulled up in the winner's circle that I've been this far before," MacGrath said after the elimination. "We need to finish this off."
Beach Glass took care of that bit of business, a worthy tribute to his sire, who died in 2018. Beach Glass is a member of the final crop, and he did his daddy proud.
It was not an easy race. Beach Glass was hung out five-wide in the scramble on the first turn and had to work his way to the front up the backstretch. He no sooner cleared than I Did It Myway ranged up to apply ample pressure, but there was no denying this son of Somebeachsomewhere on this night.
"I wasn't concerned," Gingras said. "I wanted to be the last one to the front. I didn't want to have to release somebody and then re-move. I wanted to be the last one there and when I was, I felt really, really confident. I honestly didn't think he could lose. It was my job to give him clear racetrack, and he was going to do the rest."
Beach Glass pulled clear in mid-stretch, and Gingras, a newly minted member of the Harness Racing Hall of Fame, was caught up in the moment, raising his right arm and giving a fist pump as they flashed across the wire 1-3/4 lengths ahead of the late-closing Mad Max Hanover. It was the third Pace victory for Gingras.
Beach Glass, the 1-5 choice, paid $2.60, covering the mile in 1:47.2 to set off the winner's circle celebration.
"It feels awfully good, no question," MacGrath said. "It's a huge win. We had some bad luck in 2008. That's racing, and this horse is just finding his stride and Yannick was talking about how strong he was in the homestretch. We should have a good remainder of the season if he just keeps doing what he's been doing."
It has already been a productive campaign with three wins in five starts and $533,750 in the bank.
MacGrath said that, despite an elimination win, Beach Glass wasn't at his best for the North America Cup, where he finished second. The Pace elimination and final were better indicators of things to come.
"It's unbelievable," MacGrath said. "We bought the mare (Im With Her) to breed to Beach and pulled her out of training. She was a nice filly herself. We pulled her out of training when we only had the one shot at the frozen semen, and here we are tonight."
Some journeys are long and winding. This one took 14 years … and it was well worth the wait.
WILD WAGERING: With a pair of races reaching $550,000 in action, all-source wagering on Pace Night totaled $4,733,389, up $200,000 over Pace Night 2021, and just short of $1 million more than the previous 2022 best.
Betting on race nine – the Dorothy Haughton Memorial – was $550,154, with $181,271 of that on the Late 50-cent Pick-4, establishing a season's best for the track's most popular multi-leg wager.
A total of $551,621 was bet on the 12th race – the Meadowlands Pace – which established a single-race 2022 best.
The previous high-water mark at The Big M this year was the $3,755,422 pushed through the windows on March 5, good for a then yearly best average per race of $288,878.
Per-race betting on the Pace Night card was $338,099, an increase of 17 percent over the previous per-race high.
A LITTLE MORE: Dexter Dunn and Tim Tetrick led the driver colony with three winners apiece. … Brett Pelling trained a pair to victory lane. … Racing resumes Friday at 6:20 p.m.