WALNER PAYTON, HEART ON FIRE CRUSH FAVORITES IN HAMBLETONIAN OAKS ELIMINATIONS
Saturday, July 29, 2023
---
Walner Payton and driver Dexter Dunn made a strong move to take the lead and never relinquished control to win the first $40,000 Hambletonian Oaks elimination in 1:51.4 on Saturday night (July 29) at The Meadowlands, and a shocking 1:51.2 upset performance by Heart Of Fire, handled by Todd McCarthy, was the highlight of the second Oaks elimination.
Walner Payton, a Walner filly, sat third to the first quarter while Railee Something cut that section in :27.4 with Mambacita gliding along in the catbird seat. Dunn took Walner Payton to the outside and carefully rolled by Railee Something as the half clocked in :55.3.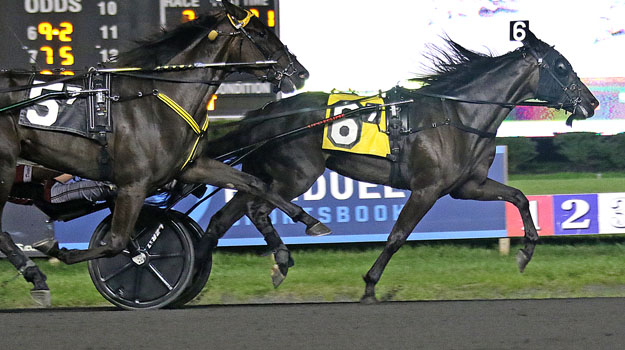 Walner Payton did not need much urging coming to three-quarters in 1:24.2 and she remained resolute at the pylons into the stretch as Railee Something tried to rally past, but mustered only second while beaten a half length. Heaven Hanover closed for third with Instagram Model and Mambacita rounding the finalists in the 1:51.4 mile.
Chris Ryder trains the winner. Kenneth E. Jacobs owns Walner Payton, whose lifetime bankroll increased to $808,652 as she notched her sixth win from 20 starts.
"She hadn't really been that good on the front," said Dunn, "but [Chris Ryder] put a hood on her tonight and she was a lot sharper. Once we got [to the front] she felt great with her ears pricked fully forward." He celled her a classy filly that "turns up week after week and never chucks in a bad performance."
Walner Payton paid $11.60 to win.
In the second elimination, with Bond an overwhelming public choice, Righteous Resolve shot out of the eight hole to get a good early position but Bond was aflame off the gate from post one and led the field around the first turn. Righteous Resolve followed her, with Secret Volo and Heart On Fire marching after Bond in a :25.4 first quarter.
Bond was flying on the lead with no challenges in sight, cutting the half in a fiery :53.4. The chase continued and Bond appeared able to handle any threats, though Secret Volo fired to the outside and Righteous Resolve tipped out and both became dangerous charges after three-quarters in 1:22.4.
As Bond struggled to keep afloat, the pylon path welcomed Heart On Fire and she scooped ground and landed on the wire first in 1:51.2. Secret Volo had the best closing act, finishing second; and Righteous Resolve took third. Kayleigh S took fourth and Bond held fifth to make the final.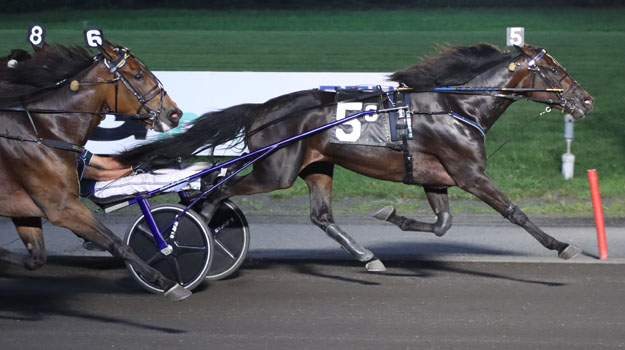 Tony Alagna trains Heart On Fire, a Father Patrick filly. Eric K. Good owns Heart On Fire, now the lifetime winner of $306,789 after collecting her fifth victory from 18 tries. She paid $74.20 to win.
Driver Todd McCarthy said he was hoping to get a trip and "sneak through and get a spot in the final. But the way the race shaped up it worked out really good for us."
He said he wasn't sure if leaving as quickly as they did was the right move. "I figured if I could get out of there I could get a handy spot. Tonight was one of those nights. She's been a temperamental filly and hard to get on top of, but she's always shown something for me. Tony [Alagna] had her really good [tonight]. When she can get a trip like that — she never had to leave the pegs — it suites her perfectly."
Walner Payton and Heart On Fire earned the privilege to draw between posts one and five for the $500,000 Hambletonian Oaks final next Saturday (Aug. 5).
HAMBO, OAKS DRAW TUESDAY: The press conference and post-position draw for the Hambletonian and Hambletonian Oaks will take place Tuesday, Aug. 1 at Hogan Equine, 329 Trenton Lakewood Road, Cream Ridge, NJ.
All are welcome to attend.
The press conference will begin at 2 p.m. with Meadowlands' track announcer Ken Warkentin serving as host. The post draws for both the $1-million Hambo and $500,000 Oaks will take place at 3 p.m. with Big M TV's Jessica Otten interviewing some of the pertinent players.
For those who can't attend but want to watch all of the festivities, they can do so by going to The Meadowlands' Facebook page or The Big M's YouTube channel.