TOURNAMENTS OF ALL TYPES AVAILABLE AT BIG M
Thursday, March 24, 2022
---
Whether you like to play in tournaments – or bet on them – The Meadowlands has a menu that includes everything needed to titillate a gambler's palate.
For Thoroughbred racing aficionados, The Big M is hosting a National Horseplayers Championship qualifying event on Saturday (March 26) with two seats to the 2023 NHC Final in Las Vegas up for grabs.
The qualifier has a $400 total fee, $200 of which will go towards the prize pool (estimated at $20,000) and $200 will be used as a bankroll during the contest. The format creates a rare zero percent takeout as all entry fees will be added to the prize pool.
Walk-ups will be accepted on the day of the contest and a player is allowed up to four entries.
For complete information, go to https://playmeadowlands.com/event/2022-nhc-qualifier/
With The Meadowlands being the top Standardbred venue in the sport, it's a natural that the World Harness Handicapping Championship Final would be held at The Big M (it takes place on Sept. 10), and those who'd like to earn a spot in the big event can do so when there is another WHHC qualifier at the mile oval on Saturday, April 30.
The contest has a $400 buy-in – $200 is a non-refundable entry fee and a $200 "betting card" must also be purchased. Entrants keep all pari-mutuel winnings, and there are a maximum of four entries per person.
What could work out to be even bigger than players keeping their winnings? The top four finishers will win a spot in the WHHC Final.
For complete information, go to https://playmeadowlands.com/event/2022-april-400-whhc-qualifier/
So, you can play in tournaments where your horse handicapping skills will be tested, and inside the FanDuel Sportsbook, your college basketball acumen will be tested, when you bet on the most popular tournament in the world, the NCAA Men's Basketball Tournament.
The "Sweet 16" will have four games on Thursday (March 24) and Friday (March 25), and hoops fans can watch and wager on the action in "The Book", the No. 1 sports-betting facility of its type in the world.
The top four seeds in the West have made it to the regional semifinal, which will be played Thursday. Overall tournament favorite Gonzaga is a 10-point chalk over Arkansas while Texas Tech is a 1-point favorite over Duke.
The other Thursday night matchups have Villanova (-5) taking on Michigan while Arizona (-1½) faces Houston.
Friday's (March 25) four-pack of games are: Kansas (-7½) over Providence; UCLA (-2½) over North Carolina; Miami (-2½) over Iowa State; and the game all New Jerseyans will be watching: the "Cinderella" Peacocks of St. Peter's taking on Purdue. Because of New Jersey sports betting regulations, wagering will be unavailable on that game.
A GOOD PLACE TO WATCH: There are numerous HDTVs spread throughout the building at The Meadowlands where patrons can catch the college basketball action. What's also numerous are the number of teller-operated and self-service wagering machines where players can get their hoops fix.
In addition, each dining area has full waitress service beginning at 11 a.m.
For complete information, go to https://playmeadowlands.com/event/2152/
GET UP EARLY! The Meadowlands – and its off-track wagering facility, Winners Bayonne – will open early Saturday (March 26) morning, so racing fans can get in on the action on the dazzling program at Meydan Racecourse (located in Dubai, United Arab Emirates), home of the $12-million Dubai World Cup.
Doors will open at 8:30 a.m. at both venues.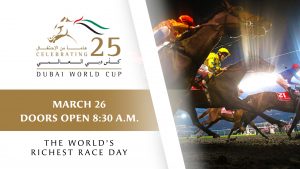 The Dubai Gold Cup has a post time of 8:55 a.m. while the World Cup – which includes among its entrants Life Is Good and Hot Rod Charlie – will head to the gate at 12:30 p.m.
There is also a major Kentucky Derby prep for simulcast fans to enjoy, as the Fair Grounds, which is celebrating its 150th season of racing, hosts the 109th Louisiana Derby, which has a post time of 6:44 p.m.
But the simulcast fun doesn't end there.
After the Meadowlands' Saturday card concludes, harness fans can turn their attention to Woodbine Mohawk Park's last race, when the track's 20-cent Hi-5 wager has a mandatory payout. The pool will begin at $526,417 and more than $1 million in "new money" could be put in play.
RACING REWIND: Last weekend (March 18-19), Dexter Dunn led The Big M driver colony with four victories while Jeff Cullipher was tops among the trainers with three winner's circle visits.
Handle remained steady as just over $5.7 million was pushed through the windows last Friday and Saturday, keeping average nightly action for the month of March above the $3-million mark.
The GSY Amateur Driving Club series races continue to be popular with the Big M faithful, as the three GSY dashes saw average handle of $226,455 last Friday. This week (on March 25), there will be four GSY races on the program.
Twenty-cent Pick-6 bettors will be shooting for a bigger pot than usual Friday night, as no one had a winning ticket last Saturday, meaning there will be a $8,335 carryover for the wager that begins in race eight. One estimation has $35,000 in "new money" being bet into the pool.
LIVE RACING SCHEDULE: Racing at The Big M is conducted on a Friday-Saturday basis and has a first-race post time of 6:20 p.m.
The track's live "Racing from The Meadowlands" pregame show kicks off nightly at 5:47 p.m.
FREE PROGRAMS: Free past performances for every race of every Meadowlands program are available 48 hours before a given card. To access the no-cost official program pages, go to playmeadowlands.com.
GET ON TWITTER: Everything Meadowlands is available by going on Twitter. You can check in with the Big M team for early changes, racing information and staff selections by going to @themeadowlands or #playbigm.
On race nights, stay in touch with Jessica Otten (@JessicaOtten1), Dave Brower (@eedoogie), Dave Little (@DaveLittleBigM), Ken Warkentin (@kenvoiceover), Shades (@ShadesOnRacing) and Edison Hatter (@Edison_1999_).
LOW TAKEOUTS, HIGH EXPECTATIONS: The Meadowlands offers its faithful six opportunities nightly to make a score by betting into pools with a low 15 percent takeout as well as low minimum base bets. Here is a list of those wagers, and when they are offered:
Race 1: 20-cent Pick-5
Race 3:20-cent Survivor Pick-7
Race 6: 50-cent Early Pick-4 ($50,000 guaranteed pool)
Race 8:20-cent Pick-6
Race 10: 50-cent Late Pick-4 ($50,000 guaranteed pool)
Race 13:10-cent Pentafecta/Hi-5
WHO DOES BROWER LIKE? For expert selections and analysis of every Big M card, check out track oddsmaker Brower's race reviews.
For Brower's input, which is generally available 48 hours before every card, go to playmeadowlands.com, then click on the "handicapping" tab and go to "race reviews".
BASEBALL IN "THE BOOK": The Major League Baseball season will get underway on April 7, but in the meantime, you can head to the FanDuel Sportsbook, located inside the grandstand at The Big M, and get some futures action.
Mets and Yankees fans will no doubt go at it tooth-and-nail throughout the season as to which team is the best in New York. The prop bet for wins over/under during the season is always a popular play, and that number for both teams is 91½. The odds on the Mets to win the World Series are +1100 while the Yankees are +1300.
Hours for the book are Monday through Thursday from 10 a.m.-1 a.m.; Friday 10 a.m.-2 a.m.; Saturday 7 a.m.-2 a.m. and Sunday 8 a.m.-12 a.m.