Special Dining Events in Pink Restaurant
Wednesday, January 26, 2022
---
The Meadowlands Racetrack has two special upcoming dining promotions in the Pink Restaurant that are perfect for a couple's night out.
Guests will enjoy the Get Lucky Valentine's Buffet on Friday, February 11 and Saturday, February 12.  The Friday night $49.95 sumptuous buffet includes roasted Brazilian-style steak, baked tortellini, chicken Marsala with wild mushrooms, and fresh strawberries dipped in  Belgium chocolate.
The Saturday $64.95 lavish buffet features lobster bisque, roasted prime rib with horseradish cream, homemade baked manicotti, salmon with grilled scallions and Belgium dark chocolate cake.
On both nights, diners will also enjoy a complimentary glass of champagne and red roses. Reservations can be made by calling 201-THE-BIGM (201-843-2446).
On March 12, the Elvis Tribute Show returns to the racetrack after a sell-out crowd back in 2019.  This year, guests will be taken on a thrilling musical tour of Elvis' career during this fast-paced three-act show.  Buffet dining begins at 5:30pm with the music beginning at 8pm.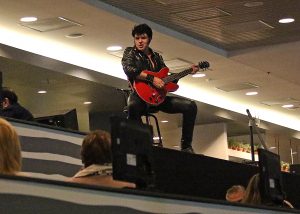 Buffet dining for this weekend, January 28 and 29th is also available. The $49.95 Friday buffet features horseradish-crusted sirloin tips, pulled pork and mac and cheese.  The $64.95 Saturday buffet is highlighted by prime rib with caramelized shallots, pork tenderloin with port wine reduction and Atlantic salmon with mango salsa.
Reservations for buffet and event dining can be made by calling 201-THE-BIGM (201-843-2446).  Complete menus can always be found at https://playmeadowlands.com/dine/