New York Celebration at the Meadowlands Racetrack
Tuesday, January 17, 2023
---
To celebrate the NY Giants advancing to the divisional round of the playoffs and to encourage fans to come out to cheer them on, the Meadowlands Racetrack is offering a New York, New York Buffet on Saturday, January 21.
The $25 (plus tax and gratuity) buffet will be offered in the 2nd floor Lounge and in the FanDuel Sportsbook beginning at 4pm.
The all you can eat buffet features coney-style hot dogs, beef sliders and chicken wings with a variety of sauces including sweet & spicy, buffalo and bbq.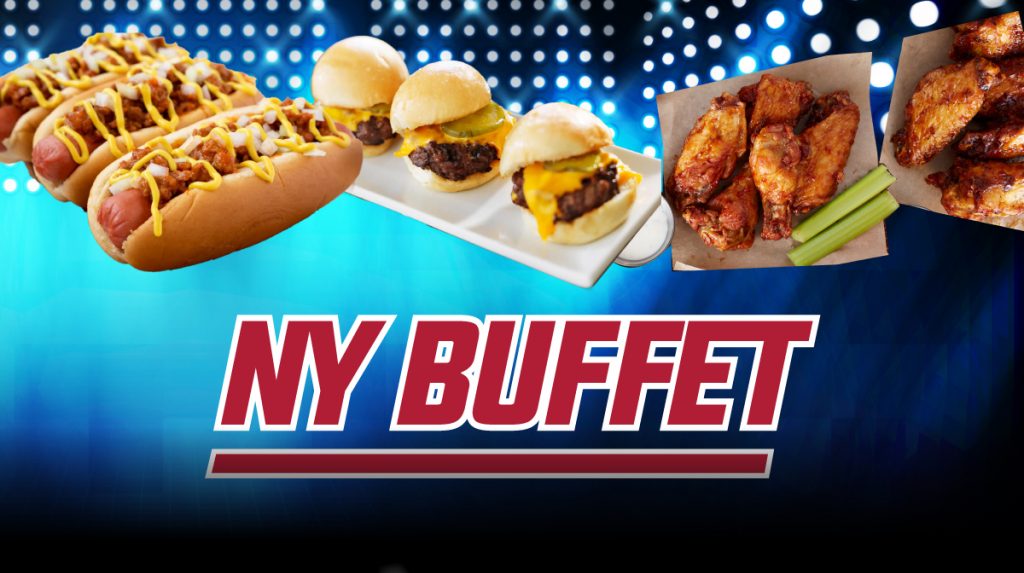 Those 21+ can also wash down the New York themed buffet with special $4 craft beers.
The FanDuel Sportsbook is also running their 2023 Free Bet Retail Promotion now through January 29, 2023. FanDuel customers that wager on-site at the Meadowlands are eligible to participate. Participants who place one or more parlay wagers of at least Twenty Dollars ($20), will receive a Ten-dollar ($10) voucher for use on a Single Game Parlay wager at the Meadowlands Racetrack (up to a maximum of $100), regardless of if their Eligible Wager wins or loses.
Upon placing an Eligible Wager, the participant will receive a voucher equal to Ten Dollars ($10) for every Twenty Dollars ($20) of the Eligible Wager, (up to One Hundred Dollars ($100)), for use on a Single Game Parlay or Single Game Parlay+ wager (with final odds +400 or longer), eligible for use only at the Meadowlands Racetrack, regardless of if the Eligible Wager wins or loses (the "Promotion Bonus"). The Promotion Bonus is available for use starting the next day following the Eligible Wager and is valid until February 5, 2023. The promotional bonus can only be used at the Meadowlands Racetrack.
Visit Playmeadowlands.com for all dining, racing and event information.
Visit the FanDuel Sportsbook at Meadowlands Racing & Entertainment. – https://playmeadowlands.com/handicapping/fanduel/
Open 7 days a week and parking is free.
Located at One Racetrack Drive, East Rutherford, New Jersey.
Must be 21+ to wager. Full Meadowlands 2023 Football Playoff Free Bet Retail Promotion rules and regulations can be viewed at https://sportsbook.fanduel.com/promotions Gambling Problem? Call 1-800-GAMBLER.