Meadowlands Racetrack Offers Plenty of Action on Kentucky Derby Day
Tuesday, April 26, 2022
---
On Saturday, May 7th, join Meadowlands Racing & Entertainment – for an exciting day and night of simulcast & live racing action, including the 148th running of the Kentucky Derby from Churchill Downs.
Grandstand doors open at 9:00 am with free parking and free admission. The Backyard Bar & Grill will open at noon and serve BBQ favorites including ribs and brisket. Outdoor table dining at the Café is also available and can be reserved here.
Victory Rooftop Terrace will also open at 12 noon and feature a DJ. Guests can grab a specialty cocktail including mint juleps and mojitos served in an official commemorative 2022 Kentucky Derby glass for $10.
 Ladies are welcome to express their fashion sense and style by entering the $1,000 Derby Hat Contest with no boundaries on how over-the-top the headwear can go.  The most creative hat wins the $500 grand prize. Sign up between 2:00pm to 4:45pm with the judging at 5:00pm in the Winner's Circle.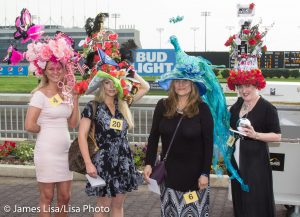 Plus all guests over 18 years of age can enter the $100 Derby Win Wager contest.  Ten lucky contestants will be selected to place a $100 win wager on any horse of their choice in the Kentucky Derby.  Entry forms are available in the Derby program and at the Player's Club desk.
For added convenience those just wanting to make wagers on the Derby can utilize the walk-up teller located in Lot M.  The teller will be open both Friday, May 6th and Saturday, May 7th 10 am until 7pm.
Guests are also welcome to enjoy a night of live harness racing at the Meadowlands with the first post time set for 6:20 pm.
Pink, the tiered dining room with perfect views of the live racing action, will feature a few Southern inspired options on the $74.95 buffet created by Executive Chef Dennis Sammarone.  Pink will open early at 4:00 pm and reservations are strongly recommended.  To reserve a table call 201-THE-BIG-M (201-843-2446).
Prizes continue into the night with ten $100 win wagers on live harness racing, the ten contestants will be selected throughout the night. Entry forms are available in the live racing program and at the Player's Club desk.
Fans can also participate in the Horseplayer Car Giveaway by picking up a FREE horse to toss. Horses can be picked up at the Players Club desk or Horseplay table in front of the Winner's Circle. Participants attempt to throw their numbered horse into the window of a moving car. A winner, randomly chosen from all the horses that make it into the car, will receive a $100 betting voucher. Each night's winner will be entered into a grand prize drawing to win a brand new 2022 Toyota Corolla LE on, Friday, August 5th. After the horse toss each night, children get to pick up all the horses left on the track and receive a FREE ice cream from The Cafe'.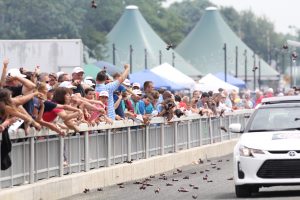 For more info on Kentucky Derby simulcasting, dining, racing and events visit PlayMeadowlands.com
 Reminder, you must be 18+ to enter wager on racing and enter any promotions.  Gambling Problem? Call 1-800-Gambler.