MEADOWLANDS PACE TO BE SHOWN LIVE ON FS2
Thursday, July 14, 2022
---
The $600,000 Meadowlands Pace highlights a sensational 14-race card Saturday (July 16) night at The Big M that is so huge, all of the major events on the program will be shown live to a national television audience on Fox Sports 2 (FS2).
"The FS2 show enables us to showcase the very best in harness racing on the sport's biggest night," said Meadowlands' Chief Operating Officer and General Manager Jason Settlemoir. "All of us at The Meadowlands appreciate the efforts of the TV team at The New York Racing Association, who will be joining forces with our own crew, to bring big-time harness racing to what otherwise would be a thoroughbred audience."
The show will be broadcast from 8-11 p.m.
During the night, a total of eight stakes races – with purses totaling $2.34 million – will be sprinkled throughout the card.
"Bettors, get ready for an enormous buffet of action on Meadowlands Pace Night," said Settlemoir. "With the card being broadcast to an international audience, we have significantly raised the stakes for the players on our signature night.
"We have doubled the guaranteed Pick-4 pools and given the players an enormous menu of non-stop wagering action. The 20-cent Pick-6 and Late 50-cent Pick-4 will both have The Meadowlands Pace as their final leg, a race on which the fortunes of horsemen and players on the greatest night in harness racing will be determined."
The Big M will offer seven wagers with a low 15 percent takeout on Pace Night. Here is when those wagers – along with the increased guarantees – will take place:
Race 1: 20-cent Pick-5
Race 3: 20-cent Survivor Pick-7
Race 5: 50-cent Early Pick-4 ($75,000 guaranteed pool)
Race 7: 20-cent Pick-6
Race 9: 50-cent Late Pick-4 ($125,000 guaranteed pool)
Race 12: 10-cent Hi-5/Pentafecta (Meadowlands Pace)
Race 14: 10-cent Hi-5/Pentafecta
Pace Night, aka "The Biggest Party in Harness Racing", sports a long list of major events, which includes the $600,000 Meadowlands Pace, $500,000 William Haughton Memorial, $250,000 Stanley Dancer Memorial, $200,000 Del Miller Memorial, $150,000 Mistletoe Shalee, $175,000 Dorothy Haughton Memorial and $432,000 Hambletonian Maturity.
On-track festivities will include a t-shirt giveaway (to the first 5,000 guests), food trucks, a DJ in the Backyard, a handicapping contest for those 30 years of age and younger for $5,000 in prize money, carnival rides and games plus a promotion where five lucky fans will get to place a $500 wager on a designated race for free.
GET YOUR PACE ACTION: Wagering on Meadowlands races is always available on many platforms. Whether it's on track, at your favorite simulcast venue, or an ADW (Advance-Deposit Wagering) site.
One of the more popular ADWs is TVG.com (Television Games Network). It's easy to sign up and start betting immediately.
As for those who can make wagers but need a place to view the action, they can go to rtn.tv (Racetrack Television Network) for a low-cost way to not only see Meadowlands races, but races at tracks all over the world.
READ ALL ABOUT IT: Meadowlands Pace Night stakes-events previews, features and recaps can be found on many websites, such as ustrotting.com, harnessracingupdate.com, drf.com/harness, harnesslink.com, standardbredcanada.ca and playmeadowlands.com.
BEACH GLASS FAVORED: Off an impressive victory in the first of two eliminations last week, Beach Glass has been installed as the 7-5 morning-line favorite for The Pace, which has a post time of 10:44 p.m. Saturday night.
Beach Glass is a son of Somebeachsomewhere – whose only career loss came in the 2008 Pace – and will try to accomplish what his sire could not. BG's elimination win was of the dominant variety, a brilliant 5¼-length score in a lifetime-best 1:48.1 as the 3-5 favorite.
The other elimination resulted in an upset as 11-1 chance Market Based scored by a neck over 1-5 public choice Night Hawk.
In the final, Beach Glass has drawn post 6. Market Based has post 4 and is 5-1 on the early line while Night Hawk has post 3 and will start out at 4-1.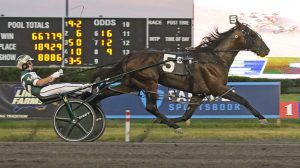 BEWARE OF THE BULLDOG: The hottest horse in harness racing is back at The Meadowlands on Pace Night, as Bulldog Hanover shoots for his sixth straight win in the William Haughton Memorial from post position 7.
The 4-year-old son of Shadow Play has been on a three-race roll never seen before in the history of the game.
He arrived at The Big M from Woodbine Mohawk Park and won a leg of the Graduate in 1:47 on June 25. One week later, he rocked the clock in a division of the Roll With Joe, winning in 1:46 to equal the all-time fastest mile in the history of the sport, first established by Always B Miki (at The Red Mile in 2016) and later equaled by Lather Up (at The Big M in 2019).
He then upped his New Jersey winning streak to three a week ago after stopping the clock in 1:46.1 in the Graduate final and will go after his fourth win in 21 days at the mile oval Saturday night.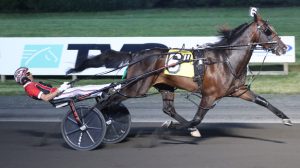 HAMBO COUNTDOWN: The biggest day on the harness racing calendar is closing in as the $1-million Hambletonian highlights a gigantic program on the sport's greatest day on Saturday, Aug. 6. Post time is noon.
FREE PROGRAMS: Free past performances for every race of every Meadowlands program are available 48 hours before a given card. To access the no-cost official program pages, go to playmeadowlands.com.
GET ON TWITTER: Everything Meadowlands is available by going on Twitter. You can check in with the Big M team for early changes, racing information and staff selections by going to @themeadowlands or #playbigm.
On race nights, stay in touch with Jessica Otten (@JessicaOtten1), Dave Brower (@eedoogie), Dave Little (@DaveLittleBigM), Ken Warkentin (@kenvoiceover) and Edison Hatter (@Edison_1999_).
TWO OUT OF THREE AIN'T BAD: Little proved masterful last weekend in the track's "Battle of the Masterminds" handicapping contest, where one lucky fan can walk away with $10,000.
Last Thursday (July 7) and Saturday (July 9), Little won the nightly competition, while Ken Warkentin grabbed the brass ring on Friday (July 8).
On-track patrons can enter every racing night, selecting the handicapper they think will win that night's edition of the tournament. If that handicapper wins and that patron's name is drawn from the entry box, they win a $200 betting voucher plus a $50 gas gift card.
That patron is then also entered into the grand prize drawing, which takes place on Hambletonian Day, August 6, one day after the conclusion of the competition.
GOOD OL' BOYS IN THE BIKE: On Friday night (July 15), The Big M will host the talented men of Tratter Co. in the Tratter Co. Pace Off.
Nick Luciano, Blake Moore, Caden McGuire and Roy Dinges will take to the track to see who's the top driver among their group of "Good 'ol boys".
Nick, Blake, Caden and Roy will team up with a top Meadowlands driver in the half-mile pacing event, so come on out and cheer for your favorite social media star.
The Tratter Co. Pace Off takes place after the fourth race.
INSIDEHARNESS.COM: Marty Marsh's insideharness.com provides bettors with insights from trainers and drivers on many Meadowlands races every night.
All one has to do is go to the website and sign up to access the inside dope.
WHO DOES BROWER LIKE? For expert selections and analysis of every Big M card, check out track oddsmaker Brower's race reviews.
For Brower's input, which is generally available 48 hours before every card, go to playmeadowlands.com, then click on the "handicapping" tab and go to "race reviews".
LIVE RACING SCHEDULE: Racing at The Big M will be conducted on a Friday-Saturday basis for the remainder of the meeting, which concludes on Hambletonian Day, Saturday, Aug. 6.
Post time is 6:20 p.m., except for Hambo Day, when the first race heads to the gate at noon.
There is one exception to the racing sked, when there will be an additional night of racing, on Thursday, Aug. 4.
The track's live "Racing from The Meadowlands" pregame show kicks off nightly at 5:47 p.m. On Hambletonian Day, the show will begin at 11:30 a.m.
BET BASEBALL AND MORE: The New York Yankees and New York Mets continue to give local baseball fans something to cheer about, and if you like to wager on your favorite club, all you need to do is visit the FanDuel Sportsbook, the top facility of its type in the country, which is located inside the grandstand at The Meadowlands.
Thursday night, the Yankees host the Cincinnati Reds in a 7:05 p.m. start. The Bronx Bombers are a -190 favorite. The under/over is 8 runs.
The Mets travel to the Windy City to take on the Chicago Cubs. The Mets are a -132 favorite while the under/over is 7½ in the game that begins at 8:05 p.m.
For up-to-date lines on any sporting event go to https://www.fanduel.com/sportsbook-meadowlands
The sportsbook is open for business Monday through Thursday from 10 a.m.-1 a.m.; Friday 10 a.m.-2 a.m.; Saturday 7 a.m.-2 a.m. and Sunday 8 a.m.-12 a.m.