Meadowlands Horseplay Car Giveaway Benefits Fans and Charities
Monday, August 22, 2022
---
Anthony Paterno of Wallington, New Jersey, walked away with a 2022 Toyota Corolla LE as the grand prizewinner of Meadowlands Racetrack's Horseplay promotion.
From Friday, May 6th through Friday, August 5th, Horseplay participants attempted to throw their numbered horse into the window of a moving car. A winner, randomly chosen from all the horses that make it into the car, received a $100 betting voucher. Each night's winner was entered into a grand prize drawing to win the brand new 2022 Toyota Corolla LE on, Friday, August 5th.
Paterno, a loyal Meadowlands customer, comes out to the track every weekend with his sons.
"I can't believe it," Paterno exclaimed after his name was drawn. "My wife's air conditioning just broke in her car so the kids will be excited to get a car with working air again!"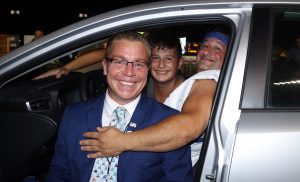 For every horse that made it into the Horseplay car, Meadowlands Racetrack donated $5 to the designated monthly charity and $5 to Purple Haze Standardbred Adoption Program. For the 2022 season, a total of $6,860 was donated to four charities.
The May donation recipient was the ACT Now Foundation who received $700. This not-for profit organization, works tirelessly to raise awareness, advocate and educate New Jersey about Alzheimer's disease, prevention, and early detection. Bluemont Sanctuary received $950 as the June charity recipient. The sanctuary's mission is to rescue, rehab and foster equines, minis and donkeys. The July/August charity recipient, Allaire Community Farm, earned $1,780. The farm has a mission of rescuing animals to rescue people of all ages. Their focus population is special needs individuals, teens with mental health issues and local families battling cancer in our community. The Purple Haze Standard Adoption Program received $3,430 over the three-month promotion.
Since 2015, Meadowlands Racing & Entertainment has donated nearly $50,000 to local charities through Horseplay.
For the most up-to-date Meadowlands Racetrack racing, event and promotions visit PlayMeadowlands.com