IT'S ACADEMIC SCORES STAKES RECORD IN CRAWFORD FARMS; JIGGY JOG S DOMINATES IN SIX PACK
Monday, July 3, 2023
---
It's Academic charged in the final quarter with Dave Miller in the bike to record a stakes-record mile of 1:50.2 in the $155,140 Crawford Farms Open Trot at The Meadowlands on Saturday (July 1).
Balenciaga and Ahundreddollarbill left the gate quickly while Ambassador Hanover and It's Academic took a good spot among them as the field straightened. Then, Brian Sears took 8-5 favorite Venerate to the top while passing the :27 first quarter.
It's Academic, the public's third choice, was sitting fourth as Venerate stepped quickly to take the field to a :55.1 half. Dave Miller tipped It's Academic out to campaign for the lead, driving towards Venerate as that one cut three-quarters in 1:23.4. The pair dueled briefly down the stretch until It's Academic left Venerate 2-1/4 lengths behind to eclipse the stakes record of 1:50.4 set last year by Alrajah One IT.
"He's really easy to get along with," said Miller. "He's been a handy horse, easy, and he waits on me to ask him to go. I decided to take a tuck and I was just getting ready to make that move when Brian had Venerate did beat me to it." Miller said It's Academic is real sharp right now. "At the head of the lane," he said, "I felt confident—and I hadn't popped the plugs yet."
Ron Burke trains It's Academic, a 6-year-old Uncle Peter horse, for owner Bradley J. Grant. He has now earned $1,521,406 and paid $8.40 to win.
In the $112,500 Six Pack Mares Open Trot, five mares worked hard trying to keep up with Jiggy Jog S but could not catch her as she crossed the wire to win by three-quarters of a length in 1:51.
Trainer-driver Ake Svanstedt was determined to command the mile, but allowed 25-1 Fashion Schooner to get the early lead briefly before sweeping from the second spot to take over after a :28.1 first quarter. Bella Bellini, the public's second choice at 7-2, followed in third. Warrawee Xenia broke around the first turn and was eliminated.
Jiggy Jog S strengthened her stride with Fashion Schooner in the catbird seat trotting the half in :56.4. Bella Bellini took the overland route going into the second turn to challenge Jiggy Jog S, still chasing at three-quarters in 1:25. Svanstedt held the reins tightly with little concern as the 4-year-old Walner mare measured the finish line to hold Bella Bellini off easily. Fashion Schooner was third and Raised By Lindy was fourth.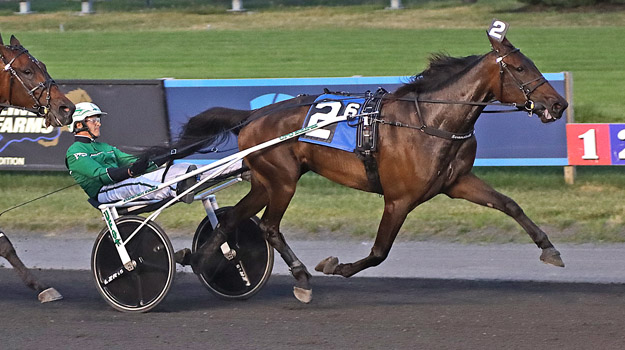 Svanstedt said, "I didn't need to ask her. She did it by herself. She has taken one more step [forward] this year from last year. She's a very good horse."
Owner Jorgen Sparredal was nearly speechless about his mare's performance. "She was fantastic again," he said, "I don't know what to say anymore."
Jiggy Jog S scored her eighth win in a row and her third this season, raising her lifetime earnings to $1,257,889 for owner Jorgen Sparredal, Inc. She paid $2.40 to win.