GINGRAS STARTS YEAR OFF RIGHT, WINS FIVE AT BIG MEAR OFF RIGHT
Saturday, January 8, 2022
---
Yannick Gingras had yet another successful year in 2021, as his horses earned $11.2 million to rank the 42-year-old driver third in the national standings, and Friday night at The Meadowlands, he got his 2022 off to a superb start by winning five times on the initial card of the year at the mile oval.
The Quebec native got his night going in the sixth race, scoring with 4-5 favorite She's Nun Bettor N from post 10 despite extremely chilly and windy conditions (the real feel temperature was 15 degrees). His second victory came two races later when he guided 2-1 public choice Muscle Jack to victory lane, winning again from the 10 hole.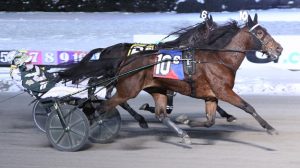 Muscle Jack
"[Muscle Jack] raced well. I was a little worried about him because at Yonkers he was a complete lunatic," said Gingras. "He was actually pretty good to drive, he was trotting through the stretch pretty well."
Win No. 3 came with the Jeff Cullipher-trained Birdman as the 3-5 favorite, giving Cullipher – the leading dash-winning trainer at the 2021 Winter-Spring-Championship Meeting at The Big M – his 1,000th career victory.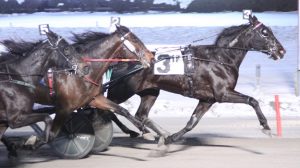 #3 Birdman
Flirty Forty took the 12th race as the 2-1 public choice to give "The Green Hornet" his fourth score of the evening before he capped his big night with his biggest price, guiding 7-1 chance Manhattanup No Ice to victory lane in the 15th and final.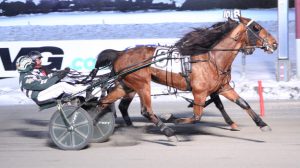 Manhattanup No Ice
"I had some power tonight and they were ready to race," said Gingras. "I'm looking forward to staying healthy and having a good 2022."
Gingras, who finished second to Dexter Dunn during 2021 in The Big M standings in dash wins with 116, upped his lifetime win total to 7,991 after his big night, leaving him just nine short of the 8,000-win plateau.
ANOTHER BIG PICK-5: After closing out 2021 with a big payout, shrewd 20-cent Pick-5 players hit big again Friday night.
On New Year's Eve, bettors were thinking big as a carryover led to a total pool of over $270,000 and a payout of $27,565. Friday night, the pool may have been nowhere as large ($42,530), but after driver Joe Bongiorno scored with 20-1 chance Itty Bitty after going a brutal first-over trip in the fifth race, those with winning tickets walked away with $14,121.
A LITTLE MORE: Mark Ford recorded a training triple after completing a sweep of the Late Double ($122.20). … There were no winning tickets sold in the 20-cent Pick-6, creating a carryover of $4,540. Those with five correct cashed in for $252.28. … Free past performances for every race of every Meadowlands card are available by going to playmeadowlands.com. … All-source handle totaled $2,797,927. … Racing resumes Saturday at 6:20 p.m.