GINGRAS RED HOT DURING ICE COLD JANUARY AT BIG M
Thursday, February 3, 2022
---
The weather was lousy during January in the northeast, so much so in fact, that last week both the Friday (Jan. 28) and Saturday (Jan. 29) programs at The Meadowlands were canceled due to a severe winter storm that hit the region.
But even though he's not that into winter, driver Yannick Gingras made the most of the first month of the year, winning 24 races over the six race cards that did take place, winning at least three times on every program.
"It's been horsepower," said Gingras of his wicked winter. "Ronnie [Burke] is racing a little more this [winter] than last year and the horses are in the right spot. I don't feel any sharper, honestly. I don't get too up or down. I feel good right now. It's just the way the cards are rolling."
Despite being born and raised in Quebec, Gingras would like to see spring come sooner rather than later.
"I don't like the winter," said the Hall of Fame-bound pilot. "I'm not a huge fan of the cold. But at The Meadowlands, they treat us right. We're not out there too long. Things are good."
The stats back that up.
Gingras won at a 31 percent clip during January from 78 starts, good for a UDRS (Universal Driver Rating System) of .430. His ROI (Return on Investment) was plus-17 percent.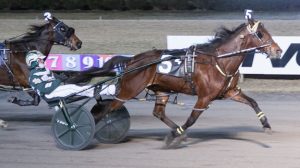 Other drivers who did good things during the first half-dozen cards of the year include Joe Bongiorno (13-for-57, win percentage of 23, UDRS of .368, ROI plus-58 percent), Corey Callahan (who won nine-of-76 starts) and Andy Miller (seven-for-38, ROI plus-118 percent).
Not surprisingly, Ron Burke led the way in the trainer colony with 11 wins. Jeff Cullipher was next with eight, with Mark Ford third with six. Ford fans filled their pockets during the month, as the veteran conditioner had an ROI of plus-178 percent.
PICK-6 CARRYOVER: Twenty-cent Pick-6 players have had to wait an extra week to go for what figures to be a huge pot, as after two consecutive race cards (Jan. 21-22) saw no Pick-6 winning tickets sold, there is a carryover of $14,033 heading into Friday night.
The Pick-6 takes place on races eight through 13 and free past performances for every race of every Meadowlands card are available by going to playmeadowlands.com.
Pick-6 carryovers can create pools where the bettor gets incredible value. Take what would transpire this Friday, for instance. If $80,000 in "new money" is poured into the pool, there will be a "negative takeout", meaning bettors with all six winners on their tickets will get back more than what's wagered that night.
That $80,000 is subject to the low 15 percent takeout, which means $12,000 goes back to the operator, leaving $68,000. The carryover is not subject to the "rake", so the total pool would be $82,033, which creates a "negative takeout", where the return to players is more than what is bet live. In addition, the 20-cent minimum bet allows players to "spread" their tickets with multiple combinations, increasing their chances of hitting big.
LIVE RACING SCHEDULE: Racing at The Big M is conducted on a Friday-Saturday basis and has a first-race post time of 6:20 p.m.
The track's live "Racing from The Meadowlands" pre-game show kicks off nightly at 5:47 p.m.
WEATHER ALERT: With the possibility of bad weather hitting the area for a second consecutive week, especially Friday, when slick road conditions are expected, those who want to make sure that there is live racing or simulcasting at The Meadowlands should check out the track's website (playmeadowlands.com) or call 201-THE-BIGM before heading to the races.
GET ON TWITTER: Everything Meadowlands is available by going on Twitter. You can check in with the Big M team for early changes, racing information and staff selections by going to @themeadowlands or #playbigm.
On race nights, stay in touch with Jessica Otten (@JessicaOtten1), Dave Brower (@eedoogie), Dave Little (@DaveLittleBigM), Ken Warkentin (@kenvoiceover), Shades (@ShadesOnRacing) and Edison Hatter (@Edison_1999_).
A $100,000 PROMISE: Twice a night, The Meadowlands offers bettors a pair of guaranteed $50,000 pools, and both are available on the track's most popular multi-leg wager, the 50-cent Pick-4, which is offered on races six through nine and 10 through 13 nightly.
WHO DOES BROWER LIKE? For expert selections and analysis of every Big M card, check out track oddsmaker Dave Brower's race reviews.
For Brower's input, which is generally available 48 hours before every card, go to playmeadowlands.com, then click on the "handicapping" tab and go to "race reviews".
WARM UP WHEN IT'S CHILI: One of the more popular promotions at the track is the "Chili Cook-Off", which was postponed on Jan. 29 and will now take place Saturday (Feb. 5). Patrons can walk around and taste samples, or, if you have a chili recipe, come on out and participate. You might walk away with the $1,000 grand prize.
For more information, go to https://playmeadowlands.com/event/2022-meadowlands-winter-chili-cook-off/
BRING YOUR SWEETHEART: There'll be plenty of action and great food at The Meadowlands next week over Valentine's Day Weekend (Feb. 11-12).
While taking in the best harness action anywhere with a pair of race cards that will begin at 6:20 p.m., couples can feast in The Big M's Pink Restaurant. Friday night's buffet is priced at $49.95 per person, while Saturday's – which features prime rib – is $69.95.
Both nights, diners will enjoy a complimentary glass of champagne and all the ladies will get a red rose.
For a look at the complete menus, click https://playmeadowlands.com/wp-content/uploads/2022/01/2022-V-Day-Weekend-Buffets.pdf
For reservations, call 201-THE-BIGM.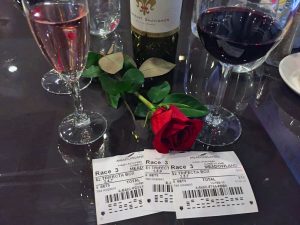 THE BIG GAME: Next week also features a football game – THE FOOTBALL GAME – as on Sunday, Feb. 13, the Los Angeles Rams take on the Cincinnati Bengals in professional football's championship event. Kickoff is 6:30 p.m.
The Rams are a 4-point favorite who are -198 on the money line. The under/over is 48½.
Watch and wager on the game inside one of the leading sportsbooks in the country, the FanDuel Sportsbook, located in the grandstand at The Meadowlands.
Hours for the book are Monday through Thursday from 10 a.m.-1 a.m.; Friday 10 a.m.-2 a.m.; Saturday 7 a.m.-2 a.m. and Sunday 8 a.m.-12 a.m.