'COOL' IS KING, TAKES MLK PACE AT BIG M
Friday, January 14, 2022
---
Jim King Solomon had himself a big night at The Meadowlands Friday, taking the Martin Luther King Remembrance Race on an evening when the civil rights icon was honored with a pair of dashes.
Solomon, who is known as 'Cool', began his night by appearing on The Big M's "In the Sulky" interview segment during the pre-game show. The veteran caretaker, who was instrumental in putting the event together, then went out and did his fans right by finishing with a win and a second in his two drives during the card.
Solomon guided Opus Blue Chip to a wire-to-wire score as the 7-2 fourth choice in the wagering in the fourth race as the Andrew Adamczyk trainee won for a second straight start. The race paid tribute to Dr. King as the field featured all African-American drivers.
Opus Blue Chip and driver Jim King Solomon hold on to win the Martin Luther King Remembrance Race at The Meadowlands Friday night. (Credit: Lisa Photo)
"He felt great," said Solomon of Opus Blue Chip, who's won 27 of 103 career starts. "Behind the gate he was good. I left out of there and just rated him. After the half, I took off. It felt great to win because this is a big race for me."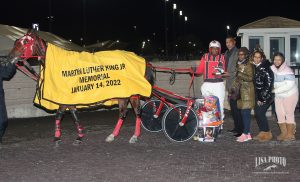 Meadowlands' Senior Security Manager James Davis makes the presentation to winning driver Jim King Solomon in the winner's circle after the Martin Luther King Remembrance Race at The Meadowlands Friday night. (Credit: Lisa Photo)
Driver Devon Tharps, who won last year's sole MLK race with Acting Out, was coming at the winner in deep stretch but came up a neck short.
"This is my childhood dream to race here," said Tharps. "I'm a third-generation horseman. Last year, I was in Kentucky when I recorded my first driving triple. Now, I'd like to get my foot in the door in New Jersey."
Driving in a race named for Dr. King was big to the 28-year-old reinsman. "This race means a lot. Dr. King did a lot for our country."
One of the things that Dr. King always stressed was inclusivity of all races, and that's why Big M Racing Secretary Scott Warren also carded a race where five drivers from the GSY Amateur Driving Club took on five African-Americans.
"It's cool they mixed us in with the other guys," said Tharps. "Maybe next year they should have a race and call it the "I Have A Dream" for a guy who did so much for our country and for people of my race."
Mark Silva, representing the GSY, guided Cecil Casanova to victory in the GSY/MLK Remembrance Race as the 4-5 favorite in race two. Solomon worked out a pocket trip with Kingofthejungle but could not beat the eventual winner, coming up 1¾ lengths short.
Saturday night, on what would have been Dr. King's 93rd birthday, there will be two more races featuring the African-American drivers. The second race will have all African-American pilots in another Martin Luther King Remembrance Race while in the fourth, the theme of inclusivity will be revisited when five of the "regular" professional Big M drivers will take on five African-Americans in the Pro-MLK Remembrance Race.
A LITTLE MORE: Joe Bongiorno had the hottest hands of the drivers on the card, recording five winners, which included four of the last six races. … Yannick Gingras had a driving triple, giving him 11 victories over the last three programs. … All-source wagering totaled $2,403,831. … Racing resumes Saturday at 6:20 p.m.