BULLDOG'S MEMORABLE NIGHT AT BIG M
Thursday, July 21, 2022
---
Great moments in sports are often remembered because of what an announcer says to capture the moment. Often, these sound bites are talked about for generations.
"The Shot Heard Round the World" might be the most memorable block of speech in sports history. New York Giants' play-by-play man Russ Hodges' call of Bobby Thompson's pennant-winning home run in 1954 was simple, yet, so impactful: "There's a long drive, it's gonna be I believe, THE GIANTS WIN THE PENNANT, THE GIANTS WIN THE PENNANT, THE GIANTS WIN THE PENNANT…….."
Harness racing has had its share of memorable moments, too. As well as the calls that have accompanied them.
How about a Meadowlands Pace from four decades ago, which featured one of the greatest horses to ever step on the track?
"They're following Niatross and nobody's gonna catch him," said track announcer Ed Gorman. "It's Niatross by four and he's going away. Niatross and Clint Galbraith, they win the 1980 Meadowlands Pace."
Another memorable call took place on Pace Night 2022 (July 16), when Bulldog Hanover broke the all-time record in becoming the fastest horse in history after stopping the clock in 1:45.4 in the William Haughton Memorial.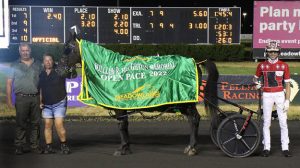 Track announcer Ken Warkentin captured the moment this way: "The others are giving futile chase here for minor spoils. It's Bulldog Hanover, the Bulldog does it again, Bulldog Hanover, Rockyroad Hanover. Then Tattoo Artist. Bulldog Hanover….1:45.4! There it is! The fastest mile in harness racing history. It doesn't get any better than that. WOW!"
Anthony Stabile, who served as the color analyst on the live Fox Sports 2 broadcast of The Pace Night show, had this to say: "In all my years of watching horse racing for 40 years. Standardbreds, thoroughbreds, quarter horses, you name it. What this horse has done in the last three weeks is nothing short of remarkable. The last three miles this horse has paced (1:46, 1:46.1, 1:45.4) in the last three weeks. Legendary."
Bulldog's 1:45.4 effort capped a 22-day span unlikely to ever be matched. He arrived on June 25 at The Meadowlands and won a Graduate leg in 1:47 before following that up on July 2 with a world-record-equaling 1:46 in the Roll With Joe.
On July 9, the Bulldog would take the Graduate Final in 1:46.1 before his historic 1:45.4 effort.
Were his last three efforts the three greatest miles of all-time? Perhaps. But there can be no doubt his three-race run has been the greatest ever from a cumulative perspective.
Bulldog's incredible July will no doubt remind people of the great Secretariat, who 49 years ago won thoroughbred racing's Triple Crown, by taking those events in a five-week span. To this day, his winning times in The Kentucky Derby (1:59.2), Preakness (1:53) and Belmont Stakes (2:24) still stand as the record for each of those storied events.
PACE REDEMPTION: Meadowlands Pace winner Beach Glass did what his sire, Somebeachsomewhere, could not, and that's win The Big M's signature event.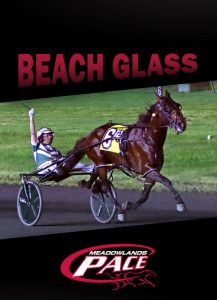 In 2008, Somebeachsomewhere, considered by many the greatest horse of all time, suffered his only career defeat in The Pace at the hands of Art Official.
Beach Glass won this year's Pace easily, getting some redemption for his dad, as well as his trainer, Brent MacGrath, who conditioned both "Somebeach" and "Glass".
Two other major headlines on The Pace card included Bella Bellini, who bested the boys from the second tier on the way to taking the Hambletonian Maturity. The 4-year-old daughter of Bar Hopping had to go first-over for the final five-eighths-of-a-mile but still managed to get past a resilient Cuatro De Julio by a length.
Test Of Faith, the defending Horse of the Year, was her usual sensational self in taking the Dorothy Haughton Memorial in 1:47, just one-fifth-of-a-second off the fastest mile ever for a female horse. Only Shartin N's 1:46.4 clocking in the 2019 Lady Liberty was faster.
"The feats of Bulldog Hanover, Beach Glass, Bella Bellini and Test Of Faith prove that the best way to experience the big nights at The Meadowlands is live on track," said Big M Chief Operating Officer and General Manager Jason Settlemoir. "So, we hope everyone has the date Aug. 6 circled on their calendars and come out to see the Hambletonian Day card live. There will be more outstanding performances for sure."
HAMBO DAY COUNTDOWN: Joviality S was dominant on Pace Night in a division of the Del Miller Memorial, and the connections of the daughter of Chapter Seven have decided they will take on the boys in the $1-million Hambletonian on August 6.
There are a big handful of major stakes events on the Hambo Day card, and one that might be especially significant to harness fans, is the Sam McKee for older pacers.
Historically, racing in the daytime produces faster times, so could the McKee provide another moment like the one Bulldog Hanover brought on Pace Night? Be there and find out.
IN THE MEANTIME: With three weeks to go in the Championship Meet, lovers of corn and money will feel quite cozy at The Big M on Saturday (July 23) night when the track presents "Corntastic" and a contest that offers huge cash prizes.
How many ears of corn can you eat in three minutes? Sign up at the promotions table, and if you are one of eight randomly chosen participants, you can find out. The most prolific corn-eater will walk away with a $500 prize.
There are also contests for corn carrying and corn husking.
For complete details, go to https://playmeadowlands.com/event/corntastic/
Also on Saturday, take part in the "$30,000 Progressive Sweepstakes". Beginning at 6:45 p.m., a name will be called every 15 minutes. If the cash prize goes unclaimed, it is rolled over to the next drawing. The drawings end at 11:45 p.m.
For more information, go to https://playmeadowlands.com/event/30000-progressive-sweepstakes/
LIKE SEAFOOD? If the answer is "yes", then you have to come out for The Big M's annual "Seafood Fest" on Saturday, July 30.
Fresh and delicious seafood from area food trucks and restaurants will be available.
If you are interested in being a vendor, contact Rachel Ryan at raryan@playmeadowlands.com.
For complete information and a complete list of food trucks that will be on hand, go to https://playmeadowlands.com/event/seafood_fest/
THE BIG DAY: Hambletonian Day, the biggest in harness racing, takes place on Aug. 6, and features the $1-million Hambletonian and $500,000 Hambletonian Oaks. Post time is noon.
Admission is $5, but it's well worth it, as admission includes a commemorative Hambo hat.
Gates open at 10 a.m.
Dining and seating options include a Promenade Table ($300), Café Table ($100) or seating on the second floor in the seating lounge.
For information and reservations, call 201-THE-BIGM.
Hambo Day festivities include live music in the Backyard by the Craig Sailer Project, carnival rides and games throughout the Backyard, a Hambo Hat Contest, a FanZone tent with free swag giveaways, a driver and trainer autograph session (from 10:30 a.m.-noon) and many food trucks.
They may not be available at a food truck, but the stakes on the card will be juicy, to say the least. They include (with estimated purses): the $1-million Hambletonian, $500,000 Hambletonian Oaks, $400,000 Peter Haughton Memorial, $400,000 Jim Doherty Memorial, $300,000 John Cashman Memorial, $275,000 Cane Pace, $275,000 Sam McKee Memorial, $175,000 Lady Liberty, $175,000 John R. Steele and $90,000 Shady Daisy.
LIVE RACING SCHEDULE: Racing at The Big M will be conducted on a Friday-Saturday basis for the remainder of the meeting, which concludes on Hambletonian Day, Saturday, Aug. 6.
Post time is 6:20 p.m., except for Hambo Day, when the first race heads to the gate at noon.
There is one exception to the racing sked, when there will be an additional night of racing, on Thursday, Aug. 4.
The track's live "Racing from The Meadowlands" pregame show kicks off nightly at 5:47 p.m. On Hambletonian Day, the show will begin at 11:30 a.m.
This week, Linda Toscano will be the guest on the track's new "Q&A" segment. Fans can ask questions live on camera, and all they have to do for a chance to be a part of it is arrive at the races near the winner's circle in time for the spot, which gets underway Friday at 5:50 p.m.
GET ON TWITTER: Everything Meadowlands is available by going on Twitter. You can check in with the Big M team for early changes, racing information and staff selections by going to @themeadowlands or #playbigm.
On race nights, stay in touch with Jessica Otten (@JessicaOtten1), Dave Brower (@eedoogie), Dave Little (@DaveLittleBigM), Ken Warkentin (@kenvoiceover) and Edison Hatter (@Edison_1999_).
FREE PROGRAMS: Free past performances for every race of every Meadowlands program are available 48 hours before a given card. To access the no-cost official program pages, go to playmeadowlands.com.
OTTEN, BROWER ARE MASTERFUL: Brower and Otten were the winners last weekend in the track's "Battle of the Masterminds" handicapping contest, where one lucky fan can walk away with $10,000.
The top two handicappers thus far, Brower recorded his fifth win of the contest on Saturday while Otten picked up win No. 4 Friday.
On-track patrons can enter every racing night, selecting the handicapper they think will win that night's edition of the tournament. If that handicapper wins and that patron's name is drawn from the entry box, they win a $200 betting voucher plus a $50 gas gift card.
That patron is then also entered into the grand prize drawing, which takes place on Hambletonian Day, Aug. 6, one day after the conclusion of the competition.
INSIDEHARNESS.COM: Marty Marsh's insideharness.com provides bettors with insights from trainers and drivers on many Meadowlands races every night.
All one needs to do is go to the website and sign up to access the inside dope.
BACK FROM THE BREAK: Major League Baseball returns from the All-Star Break with action on Thursday (July 21).
In what could be a preview of the American League Championship Series, the New York Yankees travel to Houston to take on the Astros in a doubleheader. Game 1 will begin at 1:10 p.m. The Yankees are a +110 underdog in the game while the over/under is 7½ runs.
First pitch for Game 2 is 6:40 p.m. The Yankees are a +102 underdog. The over/under is 8½.
The New York Mets first game back is Friday (July 22) when the San Diego Padres come to CitiField for a 7:10 p.m. start.
For up-to-date lines on any sporting event go to https://www.fanduel.com/sportsbook-meadowlands
The sportsbook is open for business Monday through Thursday from 10 a.m.-1 a.m.; Friday 10 a.m.-2 a.m.; Saturday 7 a.m.-2 a.m. and Sunday 8 a.m.-12 a.m.