Brower Captures the Inaugural Meadowlands Battle of the Masterminds
Monday, August 22, 2022
---
It was a hard fought battle, but in the end, track odds maker and TV host Dave Brower took the inaugural Meadowlands Battle of the Masterminds, which ran from June 3 to August 5.
Brower finished the 22-day battle with an $11,565 bankroll raising $1,000 for his selected charity CBH Care.
Marketing coordinator and TV talent, Jessica Otten grabbed second place with $9,035 earning $500 for New Vocations.
Dave Little, Meadowlands TV host came in third place with $8,441.60 raising $250 for the Standardbred Retirement Foundation.
Meadowlands announcer Ken Warkentin ran fourth with $7,434 and raised $250 for his selected charity the Harness Horse Youth Foundation.
The newest member of the broadcast team, Edison Hatter, came in fifth place with $5,034.10. He raised $250 for his charity the Purple Haze Standardbred Adoption Program.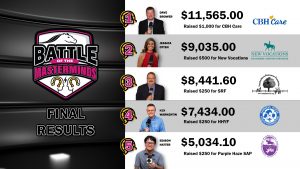 The Battle also gave 23 lucky patrons (due to a tie on July 1) a chance to win a $10,000 grand prize via a reverse drawing. Heather Jones of Lodi, New Jersey was the grand prize-winner selected on Hambletonian Day.
"I am speechless," Jones stated after hearing her name called. "This is amazing, you never think you can win a big prize and then this happens!"
The Meadowlands thanks everyone for following the Battle of the Masterminds on social media and on the nightly broadcast. The Battle will return in 2023 for the Championship Meet.