BELLA BELLINI, RATTLE MY CAGE REIGN IN GRADUATE TROTS
Saturday, July 9, 2022
---
Star trotting mare Bella Bellini and trotting rising star Rattle My Cage raised their credit with dominant victories in their respective Graduate Trot finals on Saturday (July 9) at The Meadowlands.
Bella Bellini coasted to a 1 1/2-length victory to win the $125,000 Graduate Series Final for trotting mares. She was the public choice at 1-9 against four others. Dexter Dunn was in the bike, guiding the daughter of Bar Hopping-Bella Dolce to her third-straight win.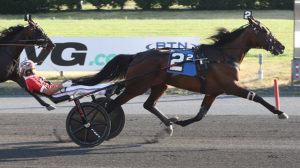 The field left the gate casually as HP Mama B, at 23-1, took the lead from the pylons with Bella Bellini settling behind her, followed by Cindy Michelle, Chablis and Herculisa, who quickly took over the third spot. The first quarter was a restful :28.2.
Rolling easily – all in a row – HP Mama B led the mares with no change in order to three-quarters in 1:24.4. Coming off the turn, Dunn eased out of the catbird seat and gunned Bella Bellini with a :26.1 final quarter to pass HP Mama B and win in 1:51.1.
Trained by Richard "Nifty" Norman, Bella Bellini increased her career earnings to $1,333,800 for owner David McDuffee.
"If there was a mastermind involved [to race her at 4], it wasn't me," said trainer Norman. "[Mr. McDuffee] loves to race, so here we are. She's bigger and stronger, too, and she's loving her work. Like Dexter [Dunn] said, she's never been better."
Bella Bellini paid $2.10 to win and place. There was no show betting.
Driver Dunn said he was happy to sit in the pocket until the late stretch. "The fractions really weren't worrying me because her kick is so fast. I was hoping David [Miller on Herculisa] didn't come too early but once we got past the half, [HP Mama B] marched on around the turn. We just had to wait into the stretch where I pulled her. It was a stroll for her tonight."
Easily continuing domination of the division this season, Rattle My Cage scored his fourth-straight win the $250,000 Graduate Final for trotting 4-year-olds in 1:51.
Yannick Gingras took the reins for trainer Ake Svanstedt and sat cold as Rattle My Cage cruised toward the lead to a :27.3 first quarter with Take All Comers yielding for the pocket. Rattle My Cage paved the path to victory with no challenges, cutting the half in :56.2 and three-quarters in 1:24.1 as he kept the rest of the field chasing him in progress to a 2-3/4-length victory.
Take All Comers gave pursuit from the pocket to hold second from a late-charging Ambassador Hanover, who ripped through traffic to nab stablemate Delayed Hanover for third.
"I'll take the easy one once in a while," Gingras said about his trip in the race. "Going into the first turn, since the outside didn't leave, I figured the inside [horses] would be more than content to follow me. He had plenty left in the stretch. I knew he has another big race next week so I didn't want to do anything stupid." Rattle My Cage, he said, "couldn't be any better right now."
Gingras drove the trotter at two and trained him before he qualified and guided him through baby races. "He had a world of ability," he said. "He just wasn't mature. He has that French breeding in him (Love You-Caress The Senses), and we all take our time to get to our best, the French."
Rattle My Cage competes for owner Perry Soderberg and now has lifetime earnings of $282,029. He was sent the favorite, paying $3.40 to win.