ADDED DRIVERS, ADDED TIME LEAD TO HUGE BIG M RETURNS
Thursday, March 10, 2022
---
By now, those who care about such things are aware that wagering Saturday (March 5) night at The Meadowlands was unlike any seen thus far this year in the harness game, as a total of $3,755,422 was bet on the 13-race card, both a track and industry-best for 2022.
What they might not know is that several other harness venues also saw a jump in business on the first Saturday of March.
"It was a very good weekend for the sport of Standardbred racing," said Meadowlands Chief Operating Officer and General Manager Jason Settlemoir. "At The Meadowlands, many of our top drivers returned to action, and we also added a few minutes for each race, which created more space for other tracks to successfully spot their races between those at The Big M.
"This strategy worked extremely well, as compared to 2021, the result was a jump in handle of $600,000 at The Meadowlands Saturday night, along with increased business at Mohawk, Northfield and Cal Expo last weekend. These are positive business trends everyone likes to see."
But The Big M led the way, with a little help from its friends at the United States Trotting Association.
"Since 2011, the USTA Strategic Wagering initiative continues to knock it out of the park every night," said Settlemoir. "The increased interest in these wagers under the initiative's umbrella is undeniable. Our Saturday card was highlighted by our low-takeout wagers like the 50-cent Pick-4, which averaged over $111,000, plus a $58,000 20-cent Pick-6 pool."
Daily information about Strategic Wagering is available on the USTA's website. (Click http://handicapping.ustrotting.com/)
Back to Saturday, when Big M betting was beyond vigorous.
A single-race season's-best $380,544 was wagered on race six, with $108,586 of that on the 50-cent Pick-4. The seventh, eighth and ninth races saw $311,820, $371,995 and $293,481 pushed through the windows, respectively, for a total of $1,357,840 over the four dashes, an average per race of $339,460.
The most popular bets did well, with the "Old Reliable" Exacta taking in $1,067,920 for the night, an average per race of $82,147, which was outdone only by the Pick-4. The Trifecta saw $827,645 in wagers, while the 20-cent Survivor Pick-7, 20-cent Pick-6 and 20-cent Pick-5 combined for a hair under $140,000 in play for the night.
Wagering per race Saturday night was $288,878, which was a big increase over the last two corresponding Saturdays. In 2021, betting was $3,114,493 for an average of $238,676, and in 2020, $2,845,231 was put in play, good for an average of $218,863.
WHO IZZY? Last Friday (March 4) night on the "Racing from The Meadowlands" live pregame show, trainer Izzy Estrada was named the Big Dee's Tack Trainer of the Week after winning two races from just four starts the weekend before.
Born in Guatemala, the 37-year-old Estrada apparently liked winning the award so much, he went out and had another outstanding weekend, and will be named the track's top trainer again this week.
Estrada did even better from a statistical perspective last weekend (March 4-5), winning five races from just seven starts (71 percent), and has visited the winner's circle seven times from just 11 starts (64 percent) over the last three Big M programs, with 10 on-the-board finishes (91 percent).
After winning four races for a second consecutive Saturday, Dexter Dunn will collect his second consecutive Driver of the Week Award on Friday.
Todd McCarthy, who was interviewed on the track's "In the Sulky" pregame show segment last Friday, equaled Dunn with four weekend winners, and his interview with Big M TV's Dave Little can be seen by going to the Meadowlands YouTube Channel.
LIVE RACING SCHEDULE: Racing at The Big M is conducted on a Friday-Saturday basis and has a first-race post time of 6:20 p.m.
The track's live "Racing from The Meadowlands" pregame show kicks off nightly at 5:47 p.m.
FREE PROGRAMS: Free past performances for every race of every Meadowlands program are available 48 hours before a given card. To access the no-cost official program pages, go to playmeadowlands.com.
GET ON TWITTER: Everything Meadowlands is available by going on Twitter. You can check in with the Big M team for early changes, racing information and staff selections by going to @themeadowlands or #playbigm.
On race nights, stay in touch with Jessica Otten (@JessicaOtten1), Dave Brower (@eedoogie), Dave Little (@DaveLittleBigM), Ken Warkentin (@kenvoiceover), Shades (@ShadesOnRacing) and Edison Hatter (@Edison_1999_).
LOW TAKEOUTS, HIGH EXPECTATIONS: The Meadowlands offers its faithful six opportunities nightly to make a score by betting into pools with a low 15 percent takeout as well as low minimum base bets. Here is a list of those wagers, and when they are offered:
Race 1: 20-cent Pick-5
Race 3:20-cent Survivor Pick-7
Race 6: 50-cent Early Pick-4 ($50,000 guaranteed pool)
Race 8:20-cent Pick-6
Race 10: 50-cent Late Pick-4 ($50,000 guaranteed pool)
Race 13:10-cent Pentafecta/Hi-5
WHO DOES BROWER LIKE? For expert selections and analysis of every Big M card, check out track oddsmaker Brower's race reviews.
For Brower's input, which is generally available 48 hours before every card, go to playmeadowlands.com, then click on the "handicapping" tab and go to "race reviews".
WHAT'S COMING UP? This weekend, love me tender, love me sweet.
On Saturday (March 12), Ralph Carey will be in Pink Restaurant doing his tribute show to the King, Elvis Presley.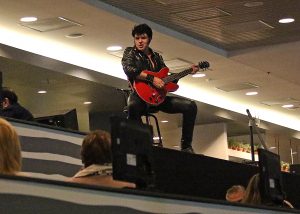 The buffet, which is priced at $64.95, begins at 5:30 p.m. with Carey performing from 8-10:15 p.m.
For more information, go to https://playmeadowlands.com/event/elvis-tribute-show/
The same night, handicappers will go at it in another qualifier for the World Harness Handicapping Championship.
There will be $5,000 in prize money (based on 50 entries) up for grabs plus two seats to the WHHC Final on Sept. 10 at The Meadowlands. All this for an entry fee of just $200.
For more information, go to https://playmeadowlands.com/event/2022-march-200-whhc-qualifier/
HOOP IT UP: Thursday (March 10) night, the Brooklyn Nets travel to Philadelphia to take on the 76ers in a 7:30 p.m. tipoff.
The Nets, off a good-looking 132-121 win against the Charlotte Hornets Tuesday night, are a 4½-point underdog against the Sixers, who are -188 on the money line. The under/over is 234½.
Tuesday night, the Nets' Kyrie Irving scored 50 points, so some might say laying -110 to see him score over 24½ against the Sixers Thursday is easy money. Do you think Irving will score more than 39½? If so, you can get +1300.
Hours for the book are Monday through Thursday from 10 a.m.-1 a.m.; Friday 10 a.m.-2 a.m.; Saturday 7 a.m.-2 a.m. and Sunday 8 a.m.-12 a.m.
COUNTDOWN TO MAYHEM: When the NCAA Men's College Basketball Tournament begins on March 17, hoops fans can come to the FanDuel Sportsbook and watch and wager on the games.
The championship game will take place on April 4.
Bettors can catch all the games at "The Book", which is located inside the grandstand at The Meadowlands. There are massive HDTVs, dining options with table service and plenty of self-service – and, of course, full service – wagering machines ready to take your action.
For more information, go to https://playmeadowlands.com/event/2152/